Welcome to this article on how to refresh your driveway. If you have an asphalted driveway, you know that over time your driveway will eventually develop cracks or potholes, and the colour will fade. Over time, this will only get worse, as this is the natural way asphalt works; it loses its oil, and the surface dries out, cracks during the summer and crumbles during the freeze-thaw cycles of the winter season. Refreshing your driveway will not only extend the lifespan of your driveway, but will exponentially increase the curb appeal.
One part of our home that is always overlooked is the driveway. Since asphalt is a building material, we don't use it as a decorative element of our home either. The slow aging of asphalt occurs over time, and a simple check once a year can help us improve the safety and aesthetics of the first thing everyone sees – the driveway!
Why did you choose to give yourself and your guests a dingy-looking surface?
Properly caring for an asphalt surface is no longer a difficult and expensive process with Pave-Tex, the first textured driveway coating that lasts for ten years; yes, an application every ten years is all it takes to keep your driveway shiny and safe for you and your family!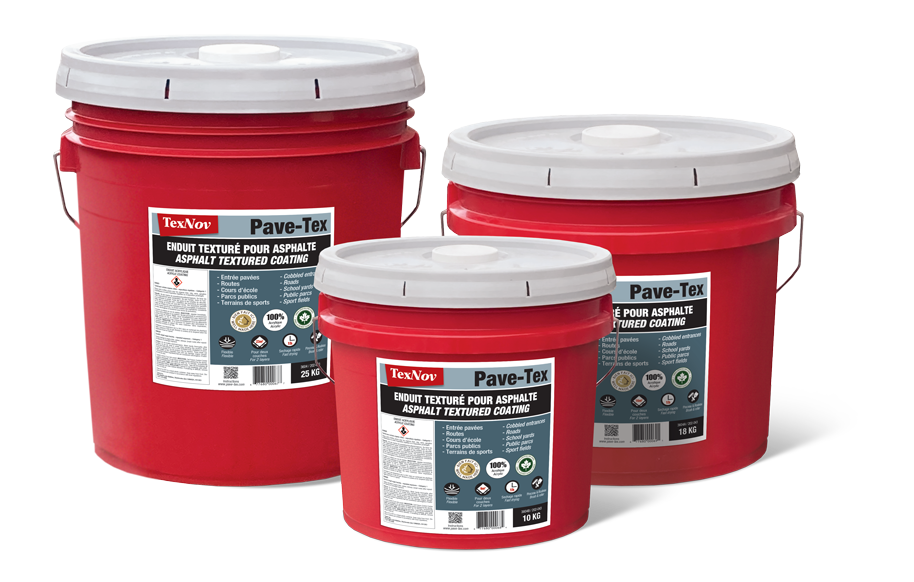 With Pave-Tex, your driveway will be restored to its original beauty without needing costly repaving. Refreshing your driveway has never been so quick and easy. Follow these easy steps for ten years of sparkling driveways.
Step 1:
Pressure washing
Pressure wash your driveway to remove contaminants and existing dust. Use a gasoline-powered pressure washer with a minimum of 2000 lbs. of pressure and a rotating jet.
Step 2:
Cleaning oil stains
Usually the lanes are contaminated with motor oil; it is hot, which makes it difficult to clean. Use TexNov's high performance surface cleaner.
Step 3:
Crack sealing
Locate and seal any existing cracks to repair your driveway. To do so, use TexNov's crack filler, a high-performance product that can withstand years of freeze-thaw cycles, adapting to any surface movement.
Step 4:
Surface Protection
Apply Pave-Tex textured coating with a roller in linear movements. For the second coat, spread in the opposite direction.
Two layers of Pave-Tex are enough to last for ten years.